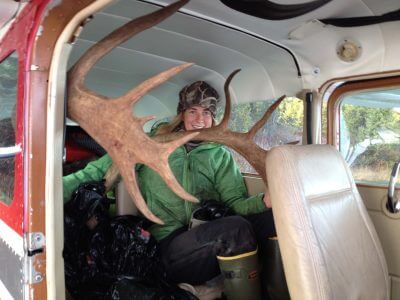 Please click the link below for the transporter hunting contract, (Required by Alaska Big Game Commercial Services Board) for more details.
Transporter / Client Contract
Nelchina Caribou Hunters, get to where the caribou are and other hunters aren't. N 2 ALASKA LLC. fly's out of Christiansen lake in Talkeetna located on the Western edge of the Talkeetna Mountains. A short flight to the high Alpine lakes of the Talkeetna's puts you in Caribou country. Our Cessna 185 is sized just right for 2 or 3 caribou hunters carrying a load of up to 775 lbs. of hunters and gear.
We're looking for a few good ethical hunters that want to enrich there hunting experience, and increase there chances of getting their game, by flying into the remote wilderness areas of the Talkeetna Mountains far from roads and vehicle tracks.
N 2 ALASKA is an FAA part 135 Air Taxi operator and a licensed Big Game Transporter. The cost of your hunt includes the flight to and from the drop-off hunting location and transport of your meat and antlers.
A deposit of 50% of the total cost of the hunt transportation service is required at the time of booking. Booking early to ensure your preferred date and time is recommended. The cost of a Fly out drop-off self-guided caribou hunt is $1195.00 per hunter, 2 hunter minimum.